Best Tire Shop in Tuscumbia AL
Tire Sale – Buy 3 Tires Get 4th Tire for $1 – Greenway Chevrolet of the Shoals (256) 383-3731 Truck Tires, Car Tires, SUV Tires, Wheel Repairs & Tire Repairs Center.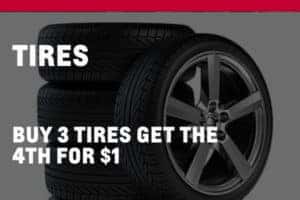 What Is The TPMS Light?
TPMS stands for Tire Pressure Monitoring System. In each wheel there can be a TPMS sensor, not all tires have this option. These sensors communicate to your car what the current pressure of each tire is. This is important because having your tires properly inflated is going to give you the best performance, fuel economy, it reduces the possibility of blowouts, and it will extend the tire's life. Tire Coupons Tuscumbia AL
When Does The TPMS Sensor On The Dash Light Up?
When the TPMS sensor reads a 25% drop in pressure, the icon is illuminated on your dash. You don't want to rely on this sensor only. A 25% pressure reduction is quite a lot so be sure to check your tire pressure on a monthly basis. If you don't know what pressure is best for your tires, look at the label on the inside of the driver door of your car or check your owner's manual. Service Coupons Tuscumbia Alabama
Why Does My Tire Pressure Light Come On When It Is Cold Outside?
Based on outside temperatures, the air in tires will expand and contract. Tires will lose about 1 to 2 pounds of pressure for every 10 degrees that the temperature drops. Your tires will lose traction and wear out more quickly when the tires are under inflated. It is best to have your tires filled to the proper psi. You can check what your tire's optimal psi is, by looking at the label on the inside of your driver's side door or in your owner's manual. If you have any tire questions call out service technicians at (256) 383-3731 Greenway Chevy in Tuscumbia AL.
Tire Shop in Tuscumbia AL – Greenway Chevrolet of the Shoals – 118 US-43, Tuscumbia, AL 35674 – (256) 629-6336 – Tire Repair Center in The Shoals